Our hope is to resume this international adult gymnastics camp that welcomes beginner through advanced athletes in Summer of 2022, but we haven't made firm plans yet. The camp normally happens during Martin Luther King Weekend in January Sat-Mon (Jan 15-17 2022), and on the last weekend of July Fri-Sun (July 29-31 2022). Please save those dates if you are interested in coming. You can save your spot in camp by filling out this form - no deposit required!

If you're afraid you'll miss our next announcement once plans are firmed up, please join our mailing list if you haven't already. In addition, this page will always contain the latest updates.

All the info we currently have on future camps appears below. I appreciate your support and understanding during these uncertain times. Stay safe, and keep positive as best as you can!
Are you a coach who might be interested in coaching at adult camp?
Fill out this form and we will be in touch!
THE ORIGINAL ADULT GYMNASTICS TRAINING Camp
*atlantic gymnastics - PORTSMOUTH NH*

THe next adult gymnastics camp WILL BE OUR 11TH CAMP!
CHECK OUT THIS VIDEO FROM a PAST CAMP!
THE (Unbelievably Fun!) 2017 Summer Adult Gymnastics Camp from Gina Paolino Paulhus on Vimeo.
THE FIRST ADULT-ONLY GYMNASTICS CAMP!

Come to a 3-day camp where competitive and recreational adult gymnasts of all levels can learn at their own pace alongside our internationally recognized staff! We focus on the women's artistic events, but men are welcome to come play. 
In addition to 13 hours of instruction plus a clinic, there will be group meals, a night out in Downtown Portsmouth, and an afternoon at the beach! There are 2 major airports within an hour (Manchester NH and Boston MA). There is a smaller airport within a mile of the gym (Pease International).
Highlights from our esteemed staff over the years include:
we always have beginner, intermediate and advanced groups for event training
This ensures that all athletes get the attention they need! We also have entire group warmups, contests, games and activities to ensure that we all get to know each other. Making new friends is one of the best parts of camp!
Check out our Adult Gymnastics Camp FAQ page!
TESTIMONIAL FROM A WINTER 2020 FIRST-TIME CAMPER!

Hi Gina,
Thank you for creating the amazing, supportive, diverse and professional Adult Gymnastics camp. You gave an excellent overview about what to expect in your emails before the camp, but I never could have imagined the wonderful energy that surrounded each of us as we did our best to move forward with our conditioning and skills.
You have created something much more than an adult gymnastics camp.
Thank you!
Mary
sample schedule
All Training and Clinic Happens at: 
Atlantic Gymnastics, 150 Gosling Rd. Portsmouth NH
Day 1
4pm Doors Open/Forms/Stretch out your legs from travel!
5-8pm Training 
8:30pm Dinner together at a Restaurant (Optional)
Day 2
9am-12pm Training
12:30-2:30pm Lunch at a Restaurant (Optional)
3-4pm Adult Gymnastics Clinic by International Clinician Tony Retrosi. 
4-7pm Training (Open Gym with Coaching Available)
7:30-10pm Dinner/Gymnastics Watch Party (Optional...but basically everyone comes :))
Day 3
9:30am-1:30pm Training and Awards
2-4pm Lunch at a local Restaurant and/or a Beach Day (Optional)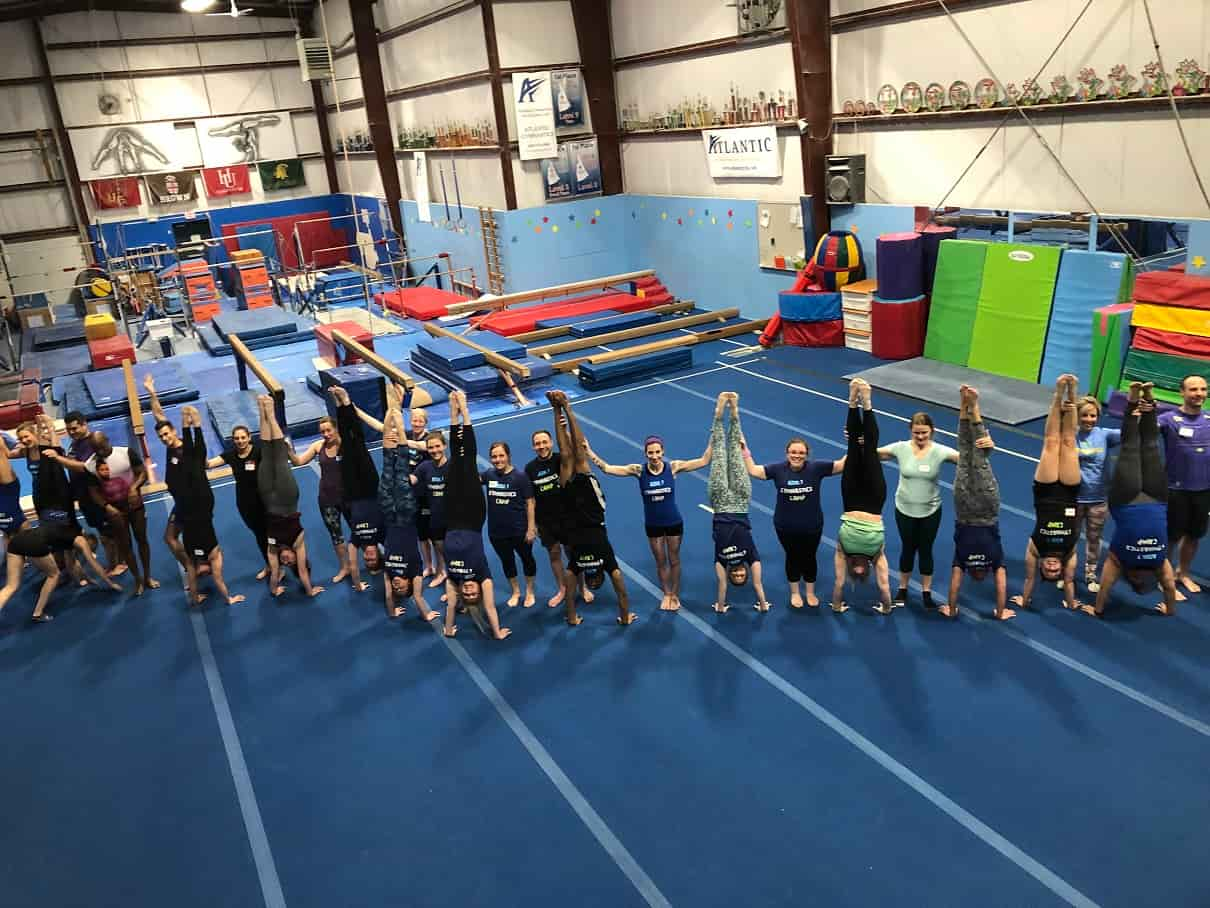 Adult gymnasts from beginner to advanced, ages 18 to 60 plus are all here to train, support one another and form new friendships.
the camp will be staffed by nationally and internationally recognized coaches.
Coaches/trainers we plan to have at Adult Gymnastics Camp:


Tony Retrosi, International Clinician and Coach up through Elite
Wendy Bruce Martin, Sports Psych Coach and 1992 Olympic Medalist
Tyler Green, NAIGC team coach and competitive athlete of Inside Gymnastics
James Parent, VP of TumblTrak
Melody Gammon, Owner of Oxford Hills Gymnastics
Alli Brisson, Coach of all levels at Atlantic Gymnastics
Kristin Anzelone Martin, Level 6-10 Team Coach at GBC
Liz Verhey, all levels coach at MGC
Bryan Paulhus, AAU Gymnastics Coach
Gina Paulhus, Camp Director, Adult Gymnast
Meghan Mello, Athletic Trainer. Will be covering camp and also offering individual sessions for more personal attention.
We will have beginner, intermediate, and advanced groups so that gymnasts of all levels and abilities feel comfortable and have the best learning experience. This camp is fully coached, but you will have freedom to work on your own if you choose. You may avoid certain events and double up on others if you prefer.
the facility
Vault onto resi
TumblTrak Vault into loose foam
Pit Bar
2 Sets of Unevens
Low bar
Strap bar set up on men's high bar
4 High beams
2 Railroad beams
Lazerbeam by TumblTrak
5 Low Beams
40 by 40 Floor including tumbling into resi
Extra long TumblTrak landing to resi or loose foam (elevated by 3 feet above loose foam)
Mushroom
Recreational rings
Trampoline
Mini Tramps
TumblTrak Tramp Boards for Vault
Taking a quick break from event rotations to strike a pose!
The focus of this camp will be on drills and skills that adult gymnastics wish to learn or improve on the various gymnastics apparatus including trampoline and TumblTrak. Conditioning, dance, PT, flexibility, lifestyle tips, and performance enhancement for adult gymnasts will also be covered. You do not have to be in "good shape" to participate! You will always be permitted to work at your own pace.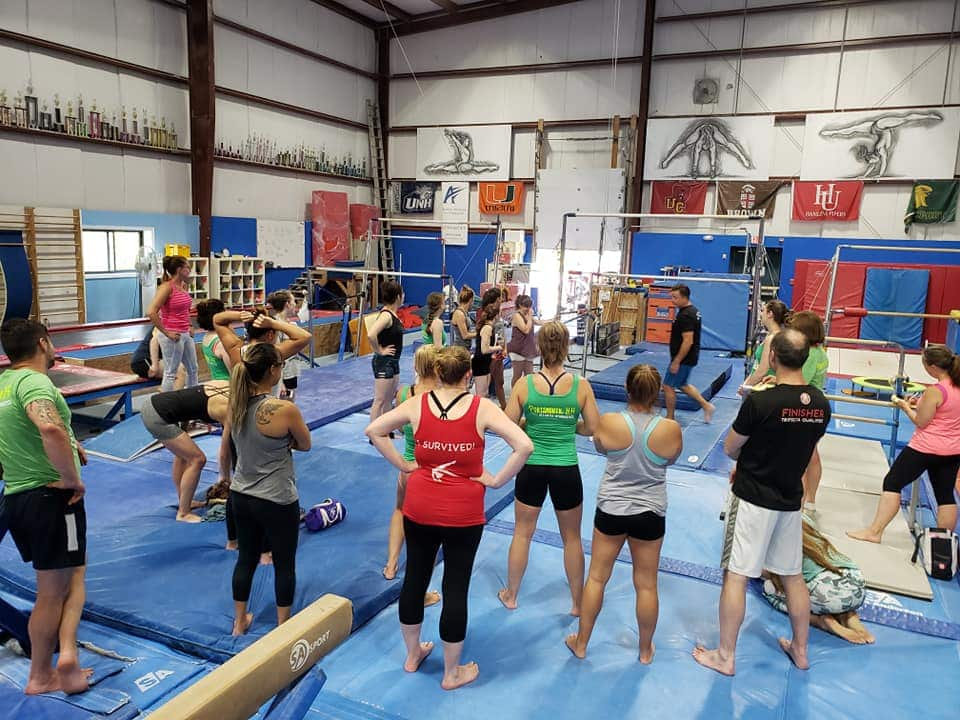 Clinic by Tony Retrosi, "5 Skills on Bars Every Gymnast Needs, Plus the Drills to Get Them."
camp details.
Note: Winter weather in NH can be a mixed bag. Please be prepared with boots and winter jackets as they are often needed! We keep the gym around 68 degrees for trainings. In the summer there is no AC. Temperatures can fluctuate and daily highs can be anywhere between the high 60s and the low 100s (rare).
WHEN: Winter Martin Luther King weekend/Last weekend of July
WHERE: 150 Gosling Rd. Portsmouth NH (Atlantic Gymnastics)
COST: $325/Athlete 
COST COVERS: All trainings, contests and your Official Camp T-Shirt. There will also be lots of changes to win prizes at camp! Cost covers admittance to the Watch Party, but you will be expected to order something (it's held at a restaurant).
COST DOESN'T COVER: Meals or lodging. We will put out a survey asking which group meals at restaurants you will attend, and there will be a $10 charge per no-show as we have to submit a headcount to the restaurants in advance. You will know the restaurant name in advance.
Seafood extravaganza with a waterfront view during lunch on Day 2.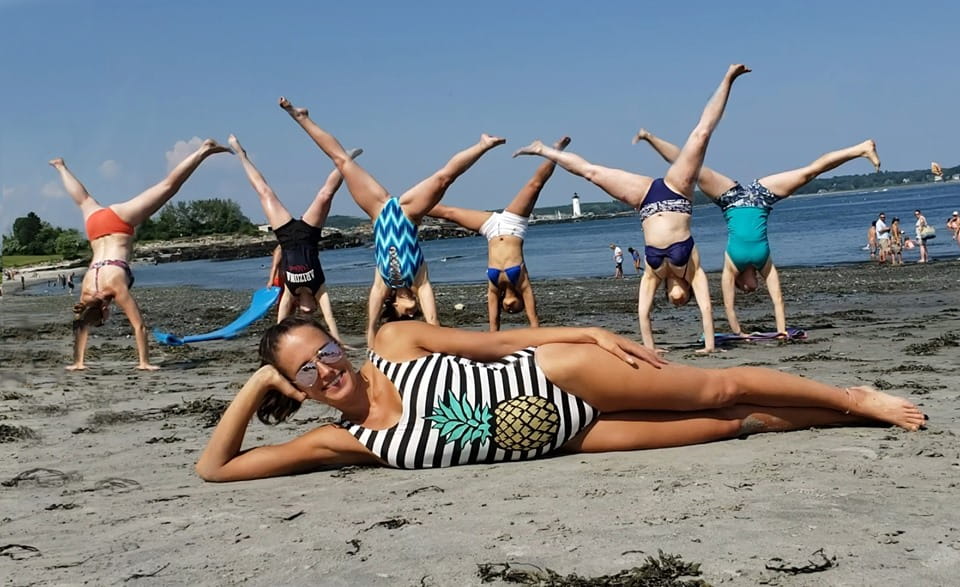 We always find some time to chill-ax during and after camp!
Questions about camp? Don't keep it to yourself. Reach out.