The Original Adult Gymnastics camp features structured training on Vault, Bars, Beam and Floor plus TumblTrak, Trampoline, Strap Bar and Dance! We have resi pits, a loose foam pit, highway beams, and a TumblTrak vault. You may avoid certain events and double up on others if you prefer. In addition to group training we always have roaming coaches that you can approach to ask for individualized help. There are contests and games along the way too! We will be offering partner acro class with Kaelyn Rogers, back by popular demand from last year.
The training you will receive is top notch, and we have groups for all levels so you are sure to feel right at home. Even if it's your very first day of gymnastics you are welcomed. We have groups for competitive gymnasts and for those with a high skill level too. We also include a Gymnastics Watch Party - always a hit! Normally we are able to watch Senior Women compete in the U.S. Classic together while we enjoy a buffet meal.
CHECK OUT THIS VIDEO FROM our last CAMP!
we are THE very FIRST ADULT-ONLY GYMNASTICS CAMP!

Come to a 3-day camp where competitive and recreational adult gymnasts of all levels can learn at their own pace alongside our internationally recognized staff! We focus on the women's artistic events, but guys are welcome to come play too. 
In addition to 13 hours of instruction plus an educational clinic, there will be group meals in Downtown Portsmouth, a Gymnastics Watch Party, and a trip to the beach for those who would like to go! There are 2 major airports within an hour of the gym (Manchester NH and Boston MA). There is a smaller airport within a mile of the gym that serves limited areas (Pease International). There is typically beach traffic coming from Massachusetts and New York north to Portsmouth in the summer, so please plan accordingly.
Highlights from our esteemed staff over the years include:
Tony Retrosi, International Clinician and my gymnastics coach!
Wendy Bruce Martin, Olympian and mental training expert.
Kaelyn Rogers, Partner Acro Instructor
James Parent of TumblTrak who is an amazing gymnastics coach and so much fun!
Tyler Green of Inside Gymnastics and founder of KSU Club Gymnastics (an NAIGC club).
Joe Mello, Team Coach, Adult Gymnastics Coach and Adult Gymnast
Liz Verhey, Recreational and Team Coach at MGC in Waltham MA
Kristin Martin, Team Coach at GBC and Pilates Instructor
Yuriy Volodin, Recreational and Team Coach at Northern Lights Gymnastics
Nathan Beriau, Team Coach and Trampoline Expert
Ariel Thibault, Team Gymnastics Coach and Adult Gymnastics Coach, Broderick Gymnastics Academy Hyde Park
we always have multiple beginner, intermediate and advanced groups for event training. 
This ensures that all athletes get the attention they need! We also have entire group warmups, contests, games and social activities to ensure that we all get to know each other. Making new friends is one of the best parts of camp! We often have injuried athletes who still come along to do what they can and soak in the atmosphere. Watching rather than particpating is always allowed! We also have an Athletic Trainer on hand to keep everyone safe and provide treatments.
Check out our Adult Gymnastics Camp FAQ page!
TESTIMONIAL FROM A FIRST-TIME CAMPER!

Hi Gina,
Thank you for creating the amazing, supportive, diverse and professional Adult Gymnastics camp. You gave an excellent overview about what to expect in your emails before the camp, but I never could have imagined the wonderful energy that surrounded each of us as we did our best to move forward with our conditioning and skills.
You have created something much more than an adult gymnastics camp.
Thank you!
Mary
covid questions
We have thought extensively about the safety of campers and staff and made the following decisions given the current state of the pandemic. While there is no decision that works perfectly for everyone, this decision is one that the organizer as well as the facility feels is best.
We are not requiring that camp guests or staff are vaccinated.
We are not requiring Covid testing for entry.
We are not requiring masking. You may mask if you prefer. Keep in mind there is no AC in the gym, and it gets hot.
If you are feeling unwell please do not attend camp sessions. Unfortunately there will be no refunds due to illness of any kind due to the planning required on our part to conduct a camp of this magnitude.
If in the unexpected event that camp must be canceled due to Covid or for any other reason, you will be refunded in full. We have successfully conducted 11 out of 11 camps so far without a hitch. Cancelation is highly unlikely.
sample schedule
All Training and Clinic Happens at: 
Atlantic Gymnastics, 150 Gosling Rd. Portsmouth NH
Day 1
4pm Doors Open/Take Care of Any Missing Forms/Stretch out your legs from travel! 
5-8pm Training 
8:30pm Dinner together at a local restaurant (Optional)
Day 2
9:30am-12:30pm Training
12:45-2:45pm Lunch at a local restaurant (Optional)
3-4pm Adult Gymnastics Clinic. Past topics have included: 
How to Manage Fear as an Adult Gymnasts
Conditioning for Success for Adult Gymnasts
Holistic Health Tips for Adult Gymnasts
Nutrition Strategies for Adult Gymnasts
Adult Gymnastics and Mental Blocks: Tips to Overcome Them
4-7pm Training (Open Gym with Coaching Available, and an optional 2 hour Partner Acro Class Available, back due to popular demand from last year!)
7:30-10pm Dinner/Gymnastics Coverage Watch Party (Optional...but basically everyone comes...😀) 
Day 3
9:30am-1:30pm Training and Awards (There will be More Open Gym Time with Coaching Available)
2-5pm Afternoon at the Beach (Optional)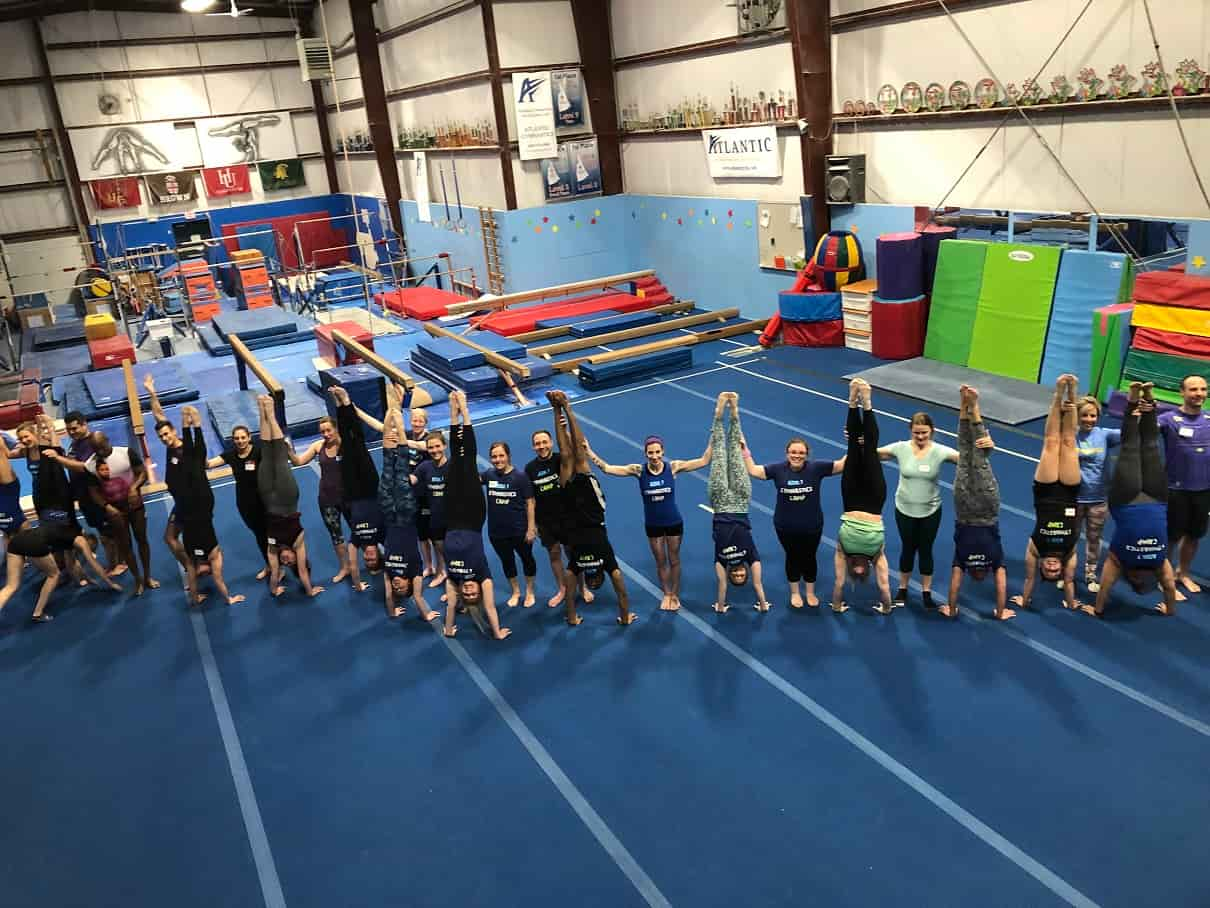 Adult gymnasts from beginner to advanced, ages 18 to 60 plus are all here to train, support one another and form new friendships.
the camp will be staffed by nationally and internationally recognized coaches.
Coaches/trainers we hope to have at adult gymnastics camp
Tony Retrosi, International Clinician and Coach up through Elite
Kristin Anzelone Martin, Level 6-10 Team Coach at GBC
Liz Verhey, all levels coach at MGC
Joe Mello, Team Gymnastics Coach 
Yuriy Volodin, Adult Gymnastics Coach at Northern Lights Gymnastics
Ariel Thibault, Team Gymnastics Coach, Broderick Gymnastics Academy Hyde Park
Nathan Beriau, Team Gymnastics Coach and Trampoline Expert
Bryan Paulhus, AAU Gymnastics Coach
Gina Paulhus, Camp Director, Adult Gymnast, and Ladies AAU Level 8 Two Time National Champion
Meghan Mello, Athletic Trainer. Will be covering health of campers and also offering 1:1 individual injury management sessions for more personal attention.
We also have a videographer, Dominique Chasse, on hand to capture memories from the weekend! You will have acesss to those photos and videos she creates for free.
the facility
Vault onto resi
TumblTrak Vault into loose foam
Pit Bar
2 Sets of Unevens
Low bar
Strap bar set up on men's high bar
4 High beams
2 Railroad beams
Laserbeam by TumblTrak
5 Low Beams
40 by 40 Floor including tumbling into resi
Extra long TumblTrak landing to resi or loose foam (elevated by 3 feet above loose foam)
Mushroom
Recreational rings
Trampoline
Mini Tramps
TumblTrak Tramp Boards for Vault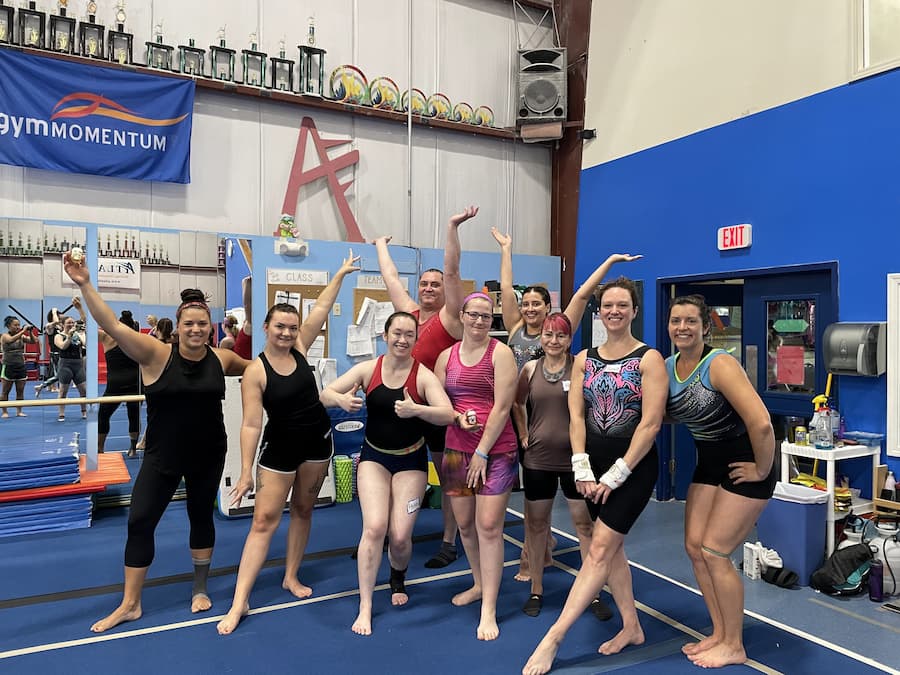 Taking a quick break from event rotations to strike a pose!
The focus of this camp will be on drills and skills that adult gymnastics wish to learn or improve on the various gymnastics apparatus. You do not have to be in "good shape" to participate! You will always be permitted to work at your own pace. Watching and learning is a great use of your time. You also are sure to make some lifelong adult gymnastics friends.
Clinic by Tony Retrosi, "General Gymnastics Philosophy and Deep Dive Into Strap Bar."
camp details.
Note: There is no AC in the gym. Temperatures can fluctuate and daily highs can be anywhere between the high 60s and the low 100s (rare). Average high is 78 degrees. We have a lobby and upstairs area with AC if you will need to cool off, as well as a lot of large fans! If sweating isn't your jam, think about it before you sign up!
WHEN: Last weekend of July (Friday July 28 - Sunday July 30)
WHERE: 150 Gosling Rd. Portsmouth NH (Atlantic Gymnastics)
TIMES: Starts 5pm Friday, July 28 (doors open at 4pm) and training ends 1:30pm Sunday (followed by a Beach trip if you'd like to come). There will be a link here to reserve parking once it's ready. 
COST: $399/Athlete - You may pay for it in 4 interest free installments which you will see during the checkout process, or all at once.
COST COVERS: All trainings, contests and your Official Camp T-Shirt. There will also be lots of chances to win prizes at camp! Cost covers admittance to the Gymnastics Watch Party before food is purchased. It covers help from our Athletic Trainer Meghan Mello in the case of acute injury.
COST DOESN'T COVER: Meals or lodging. We will send out a signup sheet asking which group meals at restaurants you may like attend. You'll be able to opt into both Friday evening and Saturday evening meals for around $50 in total. If you choose to visit the beach, the cost is $15 per vehicle to park. Cost doesn't cover appointments with our Athletic Trainer for help with chronic injuries or those that did not occur at camp. Cost doesn't cover travel expenses.
REFUNDS: The payment you make of $399 includes the nonrefundable deposit of $75 as well as the balance of $324. Last day for refunds or credits toward a future camp for the balance of $324 if you change your mind is May 28, 2023. You may request the refund for $324 prior to that date by contacting us via email. There will be no exceptions to this last day for refunds date. We incur costs based upon the number of enrolled students. If we must cancel camp due to pandemic issues, which is not anticipated, full refunds will be issued to all students.
Seafood extravaganza with a waterfront view during lunch on Day 2.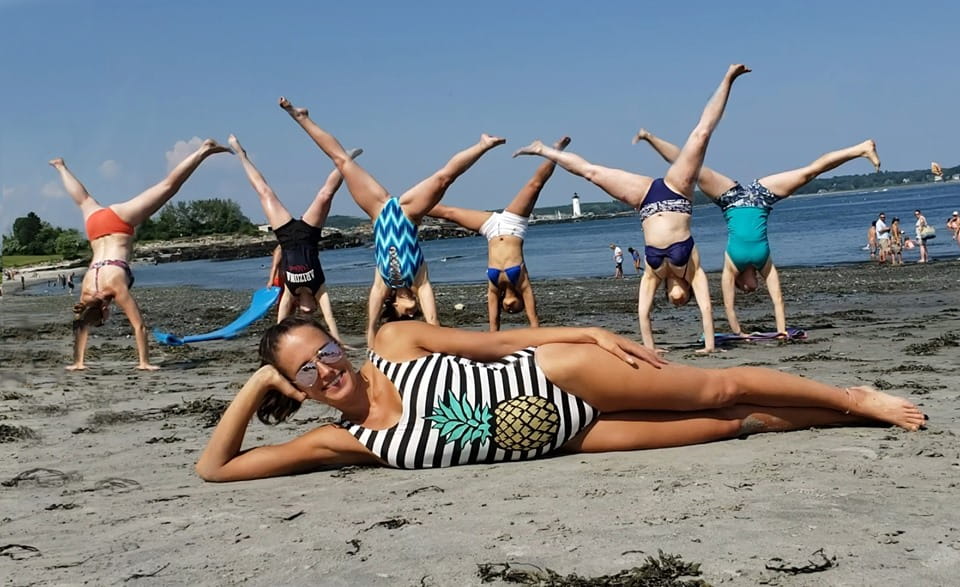 We always find some time to chill-ax during and after camp!
Questions about camp? Don't keep it to yourself. Reach out here.