usag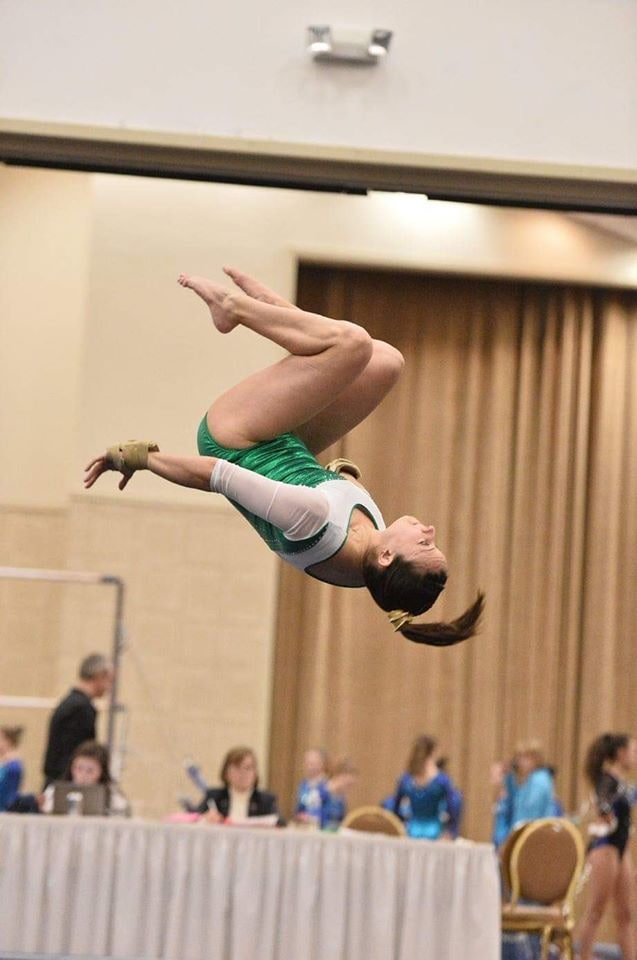 Meghan competes in a USAG meet as an Xcel platinum athlete. Meghan is also an athletic trainer and serves at our Adult Gymnastics NH camp!
Any USAG Developmental Program (DP) level or XCel level offers the opportunity to compete with other athletes of a similar skill level. USAG aims to encourage participation in all aspects of gymnastics, support athletes in their pursuit of competitive excellence and generate public awareness of the sport of gymnastics. Summaries of some of the various levels are listed below.
Age groups tend to vary from meet to meet from state to state.  There is a chance you won't have other competitors in your age group if the meet places you in 18+ (In other words, you may be the only adult competing in the meet). Some meets will place you in an age group where you will have competitors (these age groups are usually a certain age "and up." Example: 13+ or 15+ age groups. If you aren't willing to compete against kids, be sure to find out how the age groups will be split up before you've signed up by asking the meet director.
Here are some links to the rule charts to help you determine which level/division is most appropriate.
---
Pros: There are TONS of meets held all over the United States. You will have your coach on the floor with you since you will be affiliated with a member club. And that coach will be the one to send in the paperwork to register you for your the meets. You won't have to set your own equipment or figure out the steps needed to enter a meet, which is especially helpful if you have never competed before so you aren't as familiar with everything.
Cons: Not every gym will allow an adult to train with the team, either for insurance or for other reasons. It never hurts to ask though! There are not that many adults who compete UASG, so you're typically going to be in a meet with mostly youth athletes (i.e. age 18 and under). Also, the meets tend to be more expensive than with other leagues.
---
how to join
Step 1:  Search for areas around you that have competitive gymnastics teams.
Step 2:  Call, email or stop in to inquire about the opportunity to train with their team. Usually if there is a possibility, just like with children, you will most likely be asked to "try out" before a commitment is made.
Step 3:  Make sure their practice schedule jives with yours! Many practices occur right after school, which can be tough for adult schedules. Also, be prepared for practice times to change from year to year. Having a flexible work schedule and family life that isn't too demanding makes it more likely that this type of commitment work for you. Once you have worked out with the team for awhile, the odds of them being accomodating to your scheduling needs increase, but especially in the beginning you will be expected to attend to follow you're level's practice schedule in most cases, or at the very least pay the full tuition even if you aren't able to attend all practices. XCel teams are typically more lenient about attendance than DP teams. Situations vary widely among clubs, so always talk about any concerns you may have with the staff before making a commitment.
Step 4: You won't have to find your own meets because the gym will already be taking care of it. Score!
find another non-sanctioned event where you can compete
Besides the leagues listed above, there are also some private gyms who host adult meets from time to time. Those are usually run with a more laid-back vibe - but it can also be harder to find out about them. Visit this page to see a list of leagues that offer adult gymnastics competition opportunities. You can also check out these meets we know are coming up that adults can enter! You can also inquire or search on our Facebook Group Just Like Fine Wine...Adult Gymnastics.