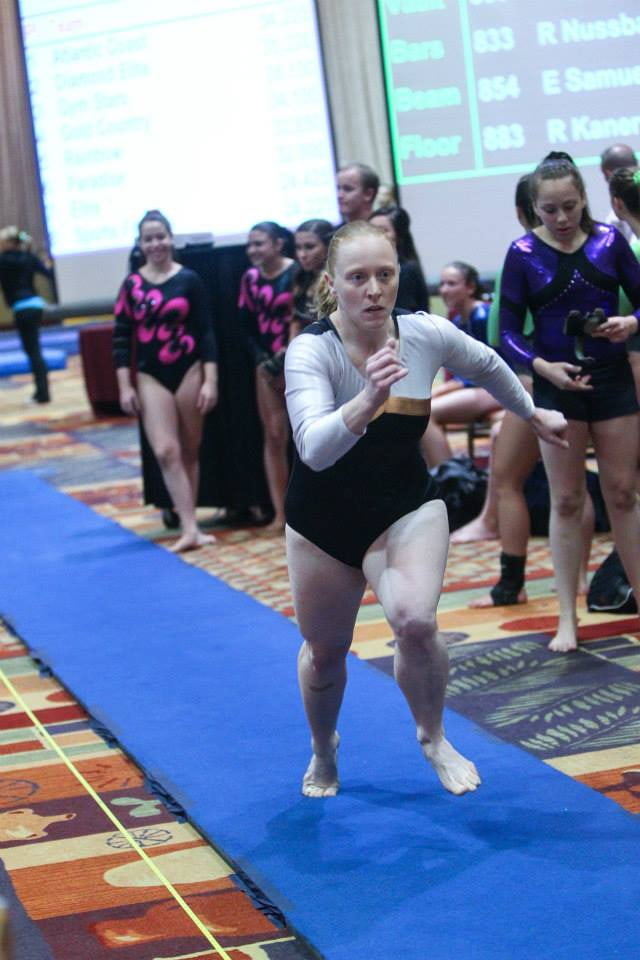 Melody competing on her favorite event at the USAIGC world gymnastics championships.
USAIGC provides an environment that fosters and nurtures the attributes of a sound mind and a sound body leading to successful healthy and well-rounded gymnasts. The competitive program is built on long-term skill development with the intentional slowing down of our gymnast's learning curve providing the necessary time to develop and perfect gymnastic skills in a safe, logical, progressive order without excessive training hours (such as what might be needed in a compulsory entry tract). 
The competitive options prevent gymnast's "frustration" of being stuck in a competitive level:
The gymnast's skill level determines their competitive entry level. 
Mobility between competitive levels is decided by the coach, not by a score. 
Mobility between competitive levels does not have to be in progressive order. 
Gymnasts may compete in two consecutive competitive levels (All-Around and/or an Individual Event Specialist) on their next level up.
There are five competitive platforms: (a) All Around, (b) Individual Event, (c) Team and (d) Club High School, (e) International. Our International competitions are open to all USAIGC competitive levels.
The USAIGC membership fee is $40/year.
Pros: No coach or club affiliation is needed; just select United States Association of Independent Gymnastics Clubs as your club when you register for your membership and you will be able to compete as an independent: Click here to register for your membership. There are TONS of meets to choose from and there are pretty much meets offered every weekend during the season. Click here for the master list. USAIGC is very supportive of adult gymnasts! In many of the meets, you will be introduced to the audience as an adult gymnast and held up as a great example for all the competitors before a competitive session.
Another great Pro is WORLDS! Every year at the end of June-beginning of July, USAIGC hosts a World Championships. Gymnasts from all over the world (USA, Bermuda, Canada, England, India, Mexico, Romania, South Africa & Wales) gather for a week of competition. Meets are usually held in Orlando or Palm Springs (alternating each year). They even have event finals for ALL competitive levels! It's an amazing experience. Adult athletes (16+) are allowed to directly qualify to the World Championships from any meet hosted by USAIGC (not by a local club) making it simple for adults to qualify. Go here for a list of those meets.  They also have a Club Directory, making it easy to find a club near you.
Cons: The main concentration of USAIGC clubs and meets are in the NY/NJ area, which might not be convenient for you. Judges need to attend special USAIGC trainings each year in order to be available to judge meets for the organization. This has made it hard for the league to expand into other areas. Meet fees are midrange - cheaper than USAG but more expensive than NAIGC typically. Meet fees aren't listed on the website for most meets so you'd have to contact the host club for that information.