Step 3: Constructing the actual routine
Now that you know what you need, and you have some ideas for how to keep the construction smart, it is time to sit down and figure out exactly what your routine will look like. There are plenty of different ways to do this, but I will walk you through what I find easiest.
Set up a worksheet for the routine to help you understand what you need. Here is a sample one for L6 Beam, to help you understand the process. A sample of what the worksheet might look like appears below.
Athlete's Name: Suzie Sample          Level: JO 6           Event: Balance Beam
Minimum skill requirements for base score of 10.0: 5A 1B
List all skills to be used in the routine, in order, with values:
Front walkover to lie on back mount - A
Split jump - B
Cross handstand - A
Back walkover - A
Full spin in coupe - A
Gainer ½ dismount - B
Event SR:                                                      Skill/combo fulfilling SR:
Acro series or flight                               (3) + (4)
Jump/leap w/180° split                       (2)
Minimum 360° turn on one foot    (5)
Salto or aerial dismount                      (6)
Bonus needed: None                            Fulfilled with: N/A
Composition deductions: None     Fulfilled with: N/A
UTL deductions: None                        Fulfilled with: N/A
Final start value: 10.0
Draw the spatial progression of the routine on the balance beam.

Note - please exchange "JO L6" above to "DP 6"
You can see how this lays out the skills used, how they meet the requirements, and the basic structure of the routine in time and space, in a clear, easy-to-read format. All that is left is to fill in the choreography! You can make your routine sheets on the computer as shown here, but they're just as easy to write out by hand. Once you have your blank routine worksheet set up, it is time to take the unordered list of skills you would like to perform, and turn them into an actual routine. 
To do this, you must think about your skill distribution in time and space. Some leagues and levels have composition deductions specifying that difficulty should be evenly distributed across a routine and that the gymnast must make use of the entire apparatus, but these are good principles even when there is no deduction riding on them. 
For the distribution in time, you want to spread your difficulty out across the routine and, when applicable, vary the types of skills (dance vs. acro, circles and pirouettes vs. releases and transitions) as well. Note in the example above how there is one B skill near the beginning of the routine and another towards the end, and there is no one chunk of all the dance or all the acro.
For the distribution in space, it is important to utilize the entire apparatus and all dimensions available to you - in the example above, the gymnast will travel to both ends of the beam and perform skills at each end, as well as in the middle. She will also face both directions along the apparatus' length, and because her mount ends lying on her back, she will have some low-to-beam work that utilizes height as a dimension. When building UB routines, you should consider the amount, type, direction, and complexity of work done on each bar. On floor you should try to make use of both diagonals and touch each of the four triangles created by these diagonals at least once, and you should again make use of level changes in the dimension of height. (The way I draw my UB for the routine sheets is a side view, and for FX I draw the mat top-down.)
The importance of these considerations varies with level. A DP 9 or 10 performing a complex routine would be expected to give them more consideration than a low level Xcel doing four or five skills total. For the lowest levels it is perfectly acceptable (and, given time limits, often necessary) to just perform the required skills as a simple straight-line sequence.
Make sure you are putting your skills in a practical order. This means you should pay attention to things like the direction you are facing and swinging on bars (don't jump to high bar, do a ½ pirouette, and then try to do a back flyaway dismount unless you fancy a broken bone) and the amount of space you have in the direction you are working on beam and floor (don't try to do a back handspring swing-down when you only have a foot of beam behind you, you are not Deng Linlin). 
When putting together a floor routine, it is also important to have an idea of where your tumbling and dance passages will fit into the music, but preparing and choreographing a floor routine is enough material for an article all its own - hopefully coming soon!
I hope this has been helpful for folks who are new to building their own routines. There are links to additional resources you might need to implement the above tips in the next section. If you still have questions, feel free to come ask them in our adult gymnastics Facebook group - it is full of experienced competitors and coaches who will be happy to help you out!
to see video of sample routines for various levels
Check out this page!
links to league-specific resources for making competition routines for adult gymnastics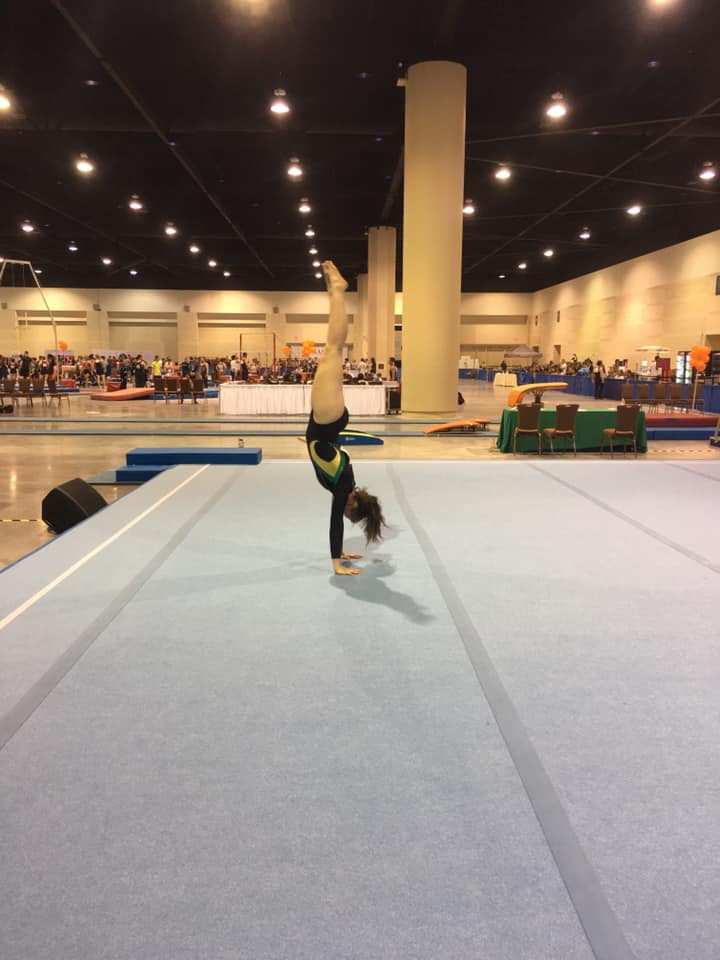 USAG Xcel
Purchase a USAG XCel Code of Points
usag DP
naigc
NAIGC Mens Progressions and Example Routines For Beginners Document
NAIGC Mens Progressions and and Example Routines For Beginners Videos
Mens Routine Construction Guide
FIG Code of Points - any NAIGC rule modifications are noted in rules links above

NAIGC Facebook Group for Questions
NAIGC Skills and Drills Facebook Group
usaigc
aau
NAG
Rules for National Gymnastics Association
Did you know we have a gymnastics camp that's exclusively for adults? We welcome competitive as well as recreational gymnasts.  Visit this page to learn more!
---
Article by Danelle Pecht, Just Like Fine Wine Adult Gymnastics Group Moderator, Adult Gymnast and Gymnastics Coach