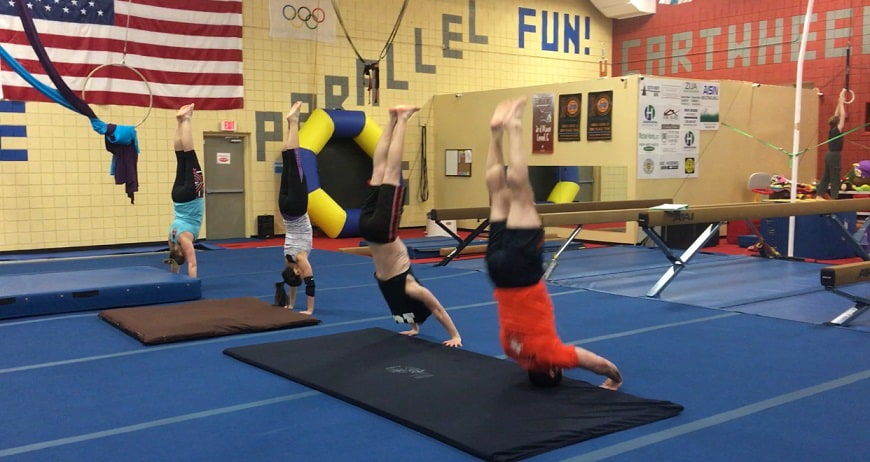 Athletes from Sara's adult class practice their handstand forward rolls.
What is your full-time job?

I'm a professor and chair of a department at Southern Illinois University. 
What led you to start an adult class? How long have you taught one?
My long-time passion for gymnastics and my own desire to be in an adult gymnastics led me to start a class. I have practiced with and helped adults at gymnastics for several years, but I've only been teaching a formal class for about six months.
Did you have another coach to model after, or did you have to come up with how it would work on your own?
I mostly came up with it on my own, but I observe coaches teaching kids and team regularly.
What makes coaching an adult different than coaching a child?
For one, I am cautious about working a lot of high impact skills. We spend a lot more time warming up. I also view adult gymnastics as an alternative type of work-out, so I focus on activities that you can't do at regular gym or at home. Many of the activities are aimed at strengthening and toning the whole body, which should enable progression in gymnastics, but a skill might not be the goal.
What is your favorite thing about adult gymnasts?

My favorite aspect of teaching adults is their excitement about being there, challenging them, and experiencing their joy and surprise when they do something they never thought they could do.
The hardest part about instructing adults is balancing time allocated to improving basic skills, increasing flexibility, and conditioning needed to progress in gymnastics with only one practice a week while introducing new skills so that they don't get bored.