the comeback is greater than the setback
This time, I was in a much better place mentally. I had gotten engaged, moved into an apartment, and launched my own business all as I was finishing up school. The depression was lifting. The one thing that seemed to be missing in my life was fun, and I decided gymnastics would be the perfect activity for that. I once again resumed training at my childhood gym, an opportunity for which I am forever grateful. After I got my old skills back I decided to switch to training at a club that had better facilities and better coaching. That was a tough bandaid to rip off and my old coach was crushed, which was another painful experience to work through.
I had matured quite a bit by that point and at 25 was OK with working out with another new group of kids, who happened to be the only ones training at the same intensity level as me, this time knowing that I would not completely belong with them either, but that what united us was a shared goal of the love of the sport. The gym welcomed me like family and the coaches were all great which helped me feel a sense of belonging. Helping out when the gym ran meets or had social events was a great way to fuel those connections. It wasn't quite like having a team full of adults, but it was better than what I had before and I was grateful. I also occasionally utilized the adult class if I needed to take a break from team for one reason or another. That was a great place to meet people closer to my age.
These kids were great about having an adult working out amongst them!
As I mentioned before, along the way I had met my future husband and we had gotten married. That really helped solidify my feeling of belonging somewhere, and because of that there was less pressure in my mind with the gymnastics and that made it all the more fun and enjoyable to get back into competing again. My husband was always a 100% supporter of my passion and that came with no judgement and unconditional love, something that meant the world to me and was a new feeling to be able to enjoy as I did my sport.

My ultimate goal with creating the Just Like Fine Wine…Adult Gymnastics Facebook Group as well as adult-gymnastics.com and The Original Adult Gymnastics Camp is for no other adult gymnast to ever again have the feeling that they don't belong.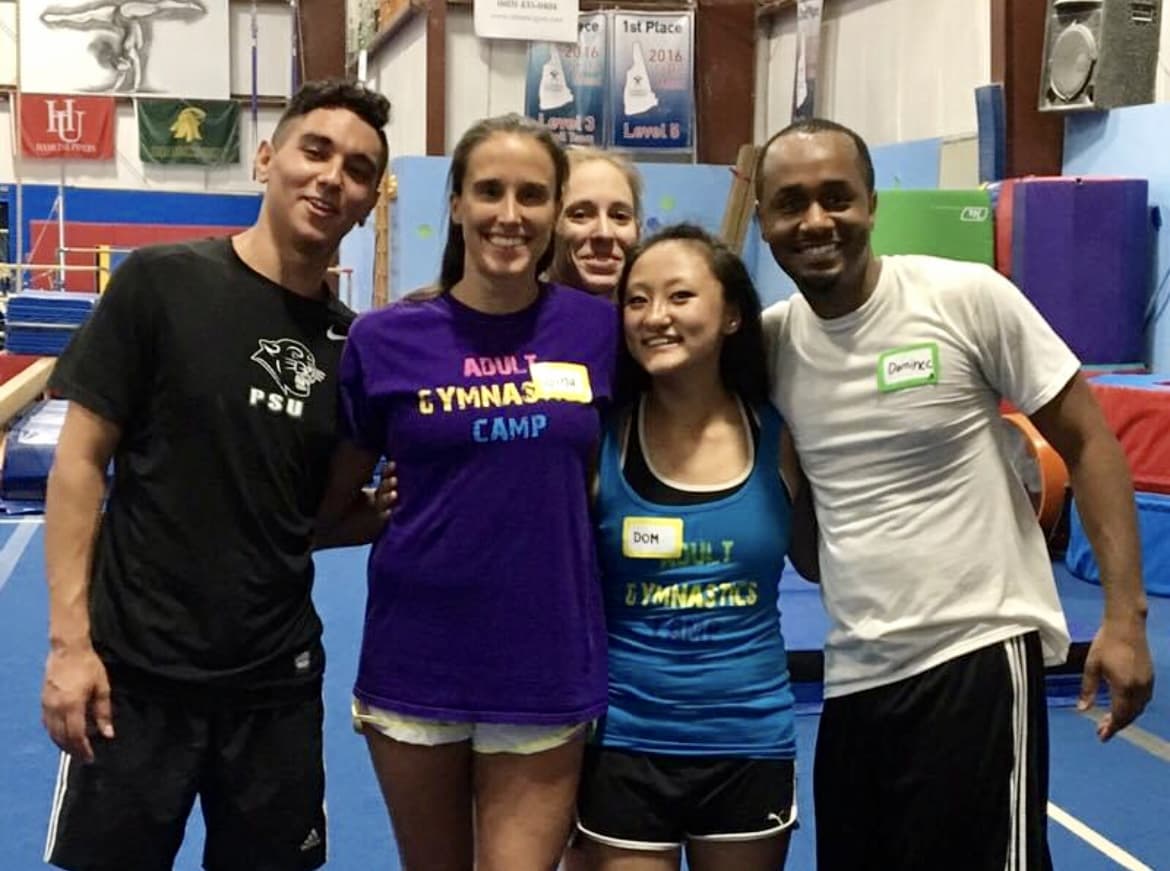 There is always a squad to be found at Adult Gymnastics Camp!
Back when I was pursing the sport as an adult not as part of a college team in the late 90s, I didn't know of anyone else doing it, aside from the twentysomething Olympians that competed in 2004. But that was elite, and I was most certainly not an elite. "There had to be others like me who just loved the sport," I thought. "Where were they?"

I met a few of them at AAU meets and figured I would start a Facebook Group to see if we could connect that way. The group took off. Finally, there was a place to post that skill you got, even if it's into the pit, and for people to share in your excitement. Finally there was a place where you could post your vent and have people get it. Finally there was a way to find other adults gymnasts in your area where you could build in person relationships with, as well as find other adults who you could connect with online that understood just what you were going through.
As I built the group and had some great help along the way with other Facebook Groups that merged with mine (Thanks, Katy!) I got handed an opportunity to take over some adult gymnastics blogs and Social Media from Jessica O'Beirne of the famed Gymcastic Podcast and took that on, knowing that the more exposure adult gymnasts could have in the media and online, the more class and team opportunities at gym clubs would arise. I also knew that this exposure would mean more and more adult gymnasts would no longer feel alone in their continuation of wanting to do their favorite sport, just like runners, swimmers, basketball players and all other kinds of masters athletes get to do.
I committed to doing my best to gain media coverage for adult gymnastics and keep the class list up to date. I found some wonderful volunteers to help me with some tasks and they deserve all the credit in the world. You can see their pictures on the cover photo of the Facebook Group. I am always amazed at the level of passion, dedication and effort gymnastics lovers can put into something – but then again, I'm not really surprised! The sport fosters that. And we are doing a great job - there are many times more clubs offering training for adults than there were even back in 2014 when I started the Facebook Group.