the three day camp was a dream come true for many of the athletes
Coaches and athletes alike were tremendously engaged which resulted in some breathtaking gymnastics. The spirit of the camp seemed to be attempting new skills, or skills that the gymnasts had not performed in years (or even decades in some cases!) For some, it was their first experience vaulting with the table - that thing looks HUGE if you are used to the 'twinkie.' However, many of the adults quickly learned that the TumblTrak is your friend, even if they did not grow up training on such a contraption.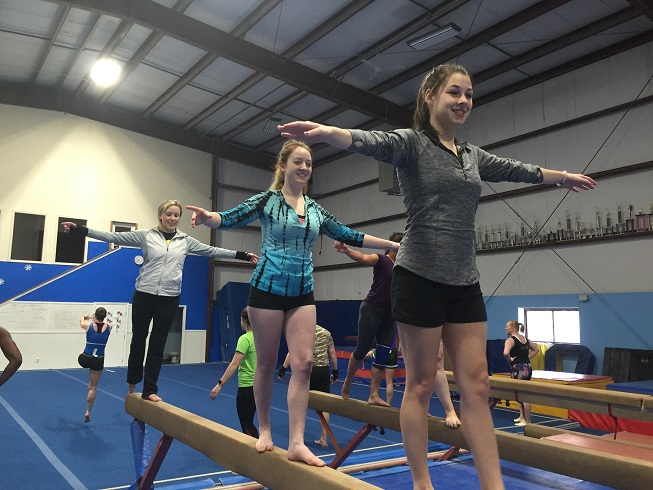 Camp provided structure with conditioning, basics, and flexibility, but still offered plenty of time to work on individual goals. We focused on the women's four artistic gymnastics events, although the men arguably had some of the best switch leaps in the business :)
Whether someone got their first-ever kip on bars, or flipped a tsuk on vault for the first time, everyone received the same amount of attention, cheers, and support. Whether it was providing a ride to someone who was traveling sans car, getting a double spot on that skill you haven't tried in a decade, or offering someone encouraging words who was dealing with a fear, this camp was a soft landing place for adult gymnasts of all ages and experience levels.
In addition to the 13 hours of training and 2 hours of clinic covering the topics of Failure, Goal Setting, and Fitness, we had a number of social outings. These included an impromptu visit to Buffalo's Wild Wings to see the Patriots Playoff game, and also Dinner at the Dolphin Striker in downtown Portsmouth. We wrapped up the camp with awards and hanging out at Paddy's Grill in Portsmouth.
Athletes left camp pleasantly sore and happy--with a plan on how to continue pursuing their gymnastics dreams and goals. And I don't doubt that some lifetime friendships were formed, exemplified by the warm hugs that were exchanged between returning campers who met each other at our past summer camp.
My cheeks hurt from smiling all weekend. I thank all gymnasts and coaches for pouring their heart and soul into camp. We couldn't have done it without you.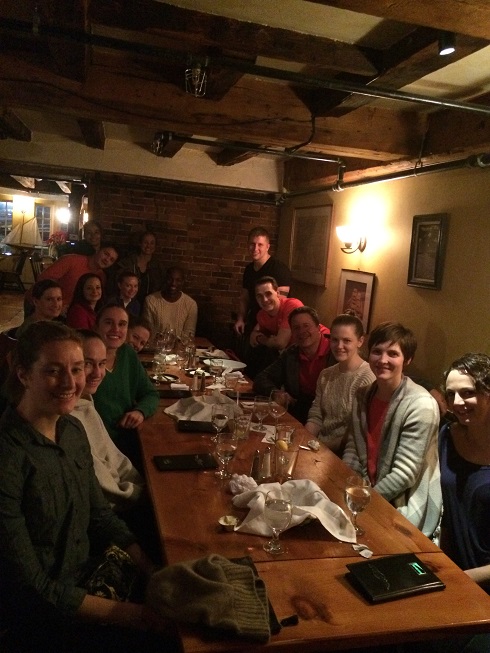 Check out these videos from 2016 Winter Adult Gymnastics Camp!

They were taken Martin Luther King weekend in January at Atlantic Gymnastics in Portsmouth NH.

Alycia's Tsuk
Elissa's first vault in 20 years!!
Mary's brand new front flyaway
Melissa's full
Melody's first front front vault!
Jules cranks front giants, 20 years later!
Mckenzie's first ever vault!