camp happenings
Friday night after warm-ups we split into groups (the athletes were divided by level into 3 separate groups). These groups were called "Stone Age," "Paleolithic Age" and "Ice Age." Each group had a couple of men. Everyone was full of excitement and eager to get on the equipment.
Friday night we focused on physical preparation for warm-up purposes, floor basics, bar basics, and beam. We met for a quick dinner at Chipotle's and a few ambitious campers hit up downtown Portsmouth for a beer.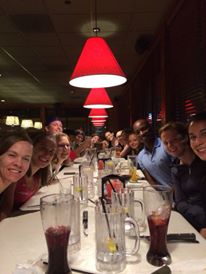 The option to dine out together was super fun and led to lifelong friendships!
Saturday included two training sessions. In addition to the four women's artistic events, we offered a dance warmup, a men's event warmup, and individual and group sessions with Dave Burchuk from Lighthouse Physical Therapy. There was an option for choreography critique as well. Sandwiched between the two trainings we had Mental Training and Nutrition for Gymnastics clinics by the pool. Clinic was great because discussion ensued which meant that the campers learned from one another as well. Everyone enjoyed a dinner out together Saturday night, and some even snuck in a trip for ice cream. Since New England is known for its lobster, people started putting a lot of effort into posing as a lobster for pictures. That sure generated some laughs!
Sunday started bright and early--8am. There was a rush at Starbucks that morning for sure! We had a morning training and then an afternoon training. Morning training included a conditioning option, which many of the adults were interested in. This impressed me since people were getting pretty sore by now! The presence of a TV camera filming for the NH Chronicle perked everyone up for the afternoon training. We also had an optional show in the afternoon where the groups presented what they had worked on at camp. Many new skills were learned, old skills were revisited, and current skills were polished. Campers also left with plenty of drills they can work on at home.
We presented 12 awards, including an award for:
Eric and Abby with their awards!
Good Samaritan — For always looking out for the safety of other campers — Abbie Green of Cambridge MA

Most Last Minute — for emailing me at 1am on Friday night asking if she could come to camp on Saturday morning -—Jill Lacedonia of CT
Best Dancer — for her spontaneous outburst of dancing to "Save a Horse, Ride a Cowboy" — Traci from PA
Gym Nerd—for his recount of how many tenths separated gold and silver at various gymnastics events—Stefane Tiki Victor from DC
the afterparty
This group came up from Cambridge MA where they train together to enjoy camp!
After awards we hit up Wallis Sands Beach in Rye (cue the handstand pictures and more lobster imitations), and ended camp with a lovely seafood dinner up in Kittery.
A hearty Congratulations to all the friendly, hardworking athletes who came to our first camp. The athletes did a tremendous job pacing themselves and also listening and incorporating the corrections, tips and drills given by the staff. We used a white board to list the skills that were learned or improved at camp and it was an amazing accomplishment for this seasoned group of adult gymnasts. Camp was abuzz with discussions about 'next year...' which means that this camp will have to be an annual event! I'm also toying with the idea of a winter camp (editorial note - we have had many summer AND winter camps since!)
The Adult Gymnastics Staff for 2015:
Lara Weed
Allison Brisson
Ryleigh Jean
Alexis Nault
Cori Cunningham
Andrea Pye
Eileen Palazzolo
Bryan Paulhus
Dave Burchuk (physical therapy)
Meghan Hunt (athletic trainer)
Gina Paulhus (director)
Our Mentor and Inspiration for camp:
Tony Retrsoi
Join our facebook group Just Like Fine Wine...Adult Gymnastics! for updates on future camps, or fill out the form below to be added to our adult gymnastics mailing list! You can also visit this page to see when our next camp happens.