Adult Gymnastics Clinic

The clinic was a hands-on demonstration of basics on all four events and included many creative drills that can be done by a beginner without a spotter.
Go here for the exclusive hour-long clinic by Tony Retrosi.
photo and video albums
Go here for 2017 Camp Photo Album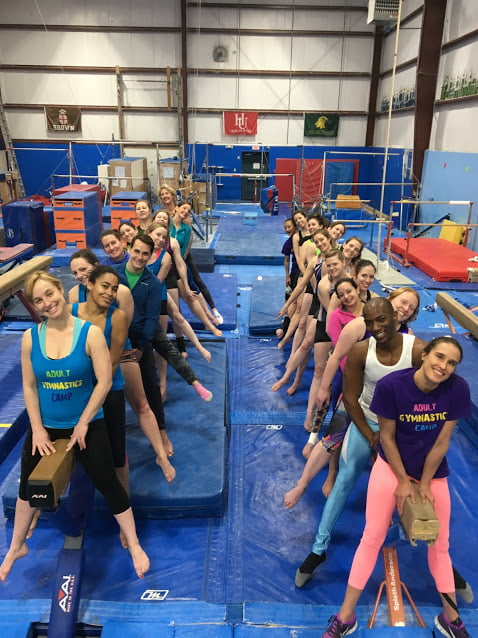 We welcome all levels, from brand-new beginner up through the highest level gymnasts.
camp awards
House Award Went to:
Jacquelyn: Gym Momentum (named after Tony's website) 
Melissa:  Suave
Rebecca:  Best Brand New Long Hang Pullover
Stefane: Majestic Layout
Elissa:  Most Surprised Look
Laura:  Shortest Learning Curve
Mary:  Tightest Twister
Chelsea:  Strongest
Alycia:  Tsuk Courage
Allison:  Cutest Smile
Caitlin:  Hands of Steel
Jules:  Highest Tumbling
Suzy:  Patience
Finley:  Laser Focus
Julie:  Happiest
Aimee:  Quickest to Improve
Ashley G.:  Energizer Bunny
Nicole:  Best New Tumbling Pass
Freda:  Rust Remover
Michelle:  Koala Ninja
Ashlee B.:  Most Open to Trying New Things
Heather:  Braveheart
Ashley K.:  Quickest to Find Handstand
Dom:  Friendly Paparazi
Camp Spirit Award went to:
Meghan:  Best Attitude
future camps
You can see info. about future camps on our camp page.