camp awards
Alexander Pommer - Bar Savant
Alycia Muller - Best Half Wolf Half
Amanda Rudman - Highest Front Tuck
Ashley Griswold - Inventor of "The Ashley" on Bars
Catherine Leask - As It Turns
Chelsea Rossetti - Twisting on Point
Christine Cairoli - Most Confident Squat On
Corinne Gammon - New Double Back
Daniel Frazier - Best Ring Leap
Dominic Casselli – Khorkina Bars
Elissa Starosto - Snap It Shut Double Front
Jason Smith - Most Improved Handstand
Jennifer Solivan - Straightest Body Line
Jules Estes - Best Beam Flight...On Floor
Kaitlin Rowe - Got Off the Wedge (Bhs on floor)
Karah Novince - Cutest Squeal
Kelly Elias - Most Improved Front Handspring
Kelsey Young - TOPS testing (Rope Climb)
Kendall Everly - Most Entertaining Floor Routine
Krista Bartolomucci - Coolest Leo (Palm Tree Leo)
Kristen O'Callaghan - New Back Tuck
Kym Granger - Peng Peng Lee Beam
Laura McElrath - Best Tip Implementer
Linda Torres - Prettiest Back Handspring
Lori Vollkommer - New Release (Cut Catch)
Mary Cafarelli - Best Sticking
Mary Hollingsworth - Prettiest Leaps
Meghan Mello - Tappiest Swing
Melissa Vacon - Most Improved Vault Entry
Nicole Furness - Trooper
Paige Morency Notario - Best Come Back
Pamela Majumdar - Most Improved Flat Back Vault
Rachael Bennett - Nastia Liukin Bars
Rachel Gittinger - Spunkiest Clear Hip
Rebecca Hanley - Best Pike Open Half
Stefane Victor - Breathtaking
Stephanie Vlack - Best Layout Shape
Stephanie Wike - Tumble Trak Back
Tiffany Chen - Most Improved Handstand Pop
Tina DiMeglio - Hardest Working
Tina Goodman - Prettiest Toes
Tracy Garner - International Streak Keeper (she's Canadian)
Made it to the end of Day 3? You get a medal because, well it's not easy!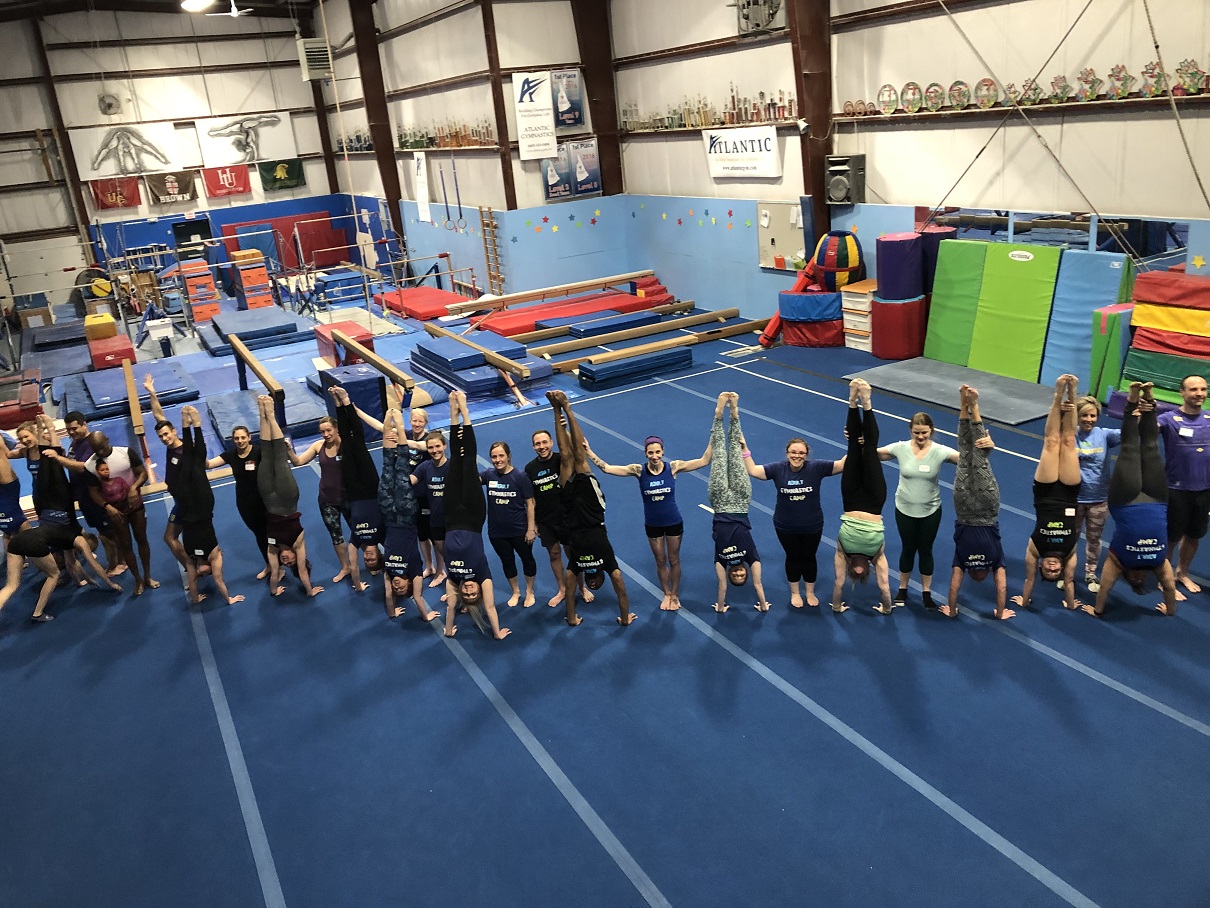 Unbreakable bonds were formed at camp. Many of the athletes have kept in touch since camp or even met up at competitions!
future camps
Camp happens the last weekend of January and the last weekend of July each year. Winter camp is Sat-Mon and summer is Fri-Sun.
Check out our listing of future camps! We are the NH Camp!